Weeklong Curfew in Baltimore, Cops Injured by Rioters, National Guard Called by Governor
Seven Baltimore City police officers were seriously injured, multiple vehicles were vandalized and set on fire, and businesses were looted as a massive group of rioters ran wild along North Avenue early Monday evening.
It's believed the riots may be a result of fliers that were apparently shared over the weekend on social media asking high schoolers to rally at Mondawmin Mall. It was supposed to be a peaceful march for Freddie Gray that extended from Mondawmin Mall to The Avenue.
Instead, things quickly spiraled out of control.
Police say seven officers were seriously injured in the melee as rioters began attacking them unprovoked. Several of the officers reportedly suffered broken bones. At least one was unresponsive before being hospitalized.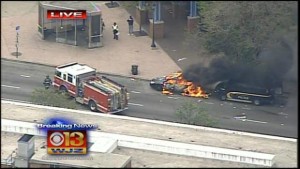 By 7 p.m., Gov. Larry Hogan declared a state of emergency and activated the National Guard to address the growing violence and unrest. Many businesses in downtown Baltimore closed early and streets were eerily quiet as workers and residents feared the protests and violence would return to the heart of Charm City.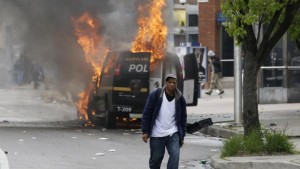 Mayor Stephanie Rawlings-Blake declared a week-long curfew to be in effect from 10 p.m. to 5 a.m. in the city in an effort to curb further violence and rioting.
"What we see going on tonight that is going on in our city is very disturbing. It is very clear there is a difference between what we saw over the past week with the peaceful protests, those who wish to seek justice, those who wish to be heard and want answers, and the difference between those protests and the thugs who only want to incite violence and destroy our city," said Mayor Stephanie Rawlings-Blake during a press conference Monday evening. "We are deploying every resource possible to gain control of the situation and to ensure peace moving forward."
"We're better than this, and I know that people are upset, but this is not the way to go about change," Rep. Elijah Cummings told WJZ's Derek Valcourt. "When we see policemen being hit, stores being broken into and burned, that's not who we are. I'm asking people to refrain from that. This is our city. After all the cameras are gone, we still have to live here."
Most of the violence was contained to North Ave. and Pennsylvania Ave., reported WJZ's Sky Eye Chopper 13 Captain Jeff Long from Sky Eye Chopper 13.
WJZ's Christie Ileto witnessed students and other participants throwing rocks and bricks at officers in riot gear. Tear gas and pepper spray were utilized by officers and Ileto received treatment from police after the wind carried pepper spray into her face.
"This is nothing like Saturday's protests, nothing," Ileto said.
The baseball game scheduled to be played between the Orioles and the Chicago White Sox was canceled after officials consulted with Baltimore Police. No makeup date has been announced yet.
Some of the worst damage came at a CVS store at Pennsylvania Ave. and North Ave. where looters tore through the building. Several police vehicles were also set on fire nearby. Shortly before 6:30 p.m., that CVS was engulfed in flames. Thick clouds of dark smoke could be seen billowing from the store.
Police said members of the group rioting at Pennsylvania and North Aves. cut the fire hose while they were attempting to put out the blaze.
Long described the scene during WJZ Eyewitness News at 5.
"This has kind of been the hot bed of activity for some time now. This is where there's still two vehicle fires going on, two Maryland Transportation Authority police vehicles, a car and a van both on fire. The fire department was here, they did manage to get one of them out, the tires were continuing to burn and at some point the fire department just had to leave so those vehicles just continue to burn. Looters are still here at this intersection. Every once in a while somebody goes into CVS and people come out and the scary thing is that is a drug store, there is a pharmacy in there. When they're looting a 7-Eleven and taking bags of Doritos and sodas, that's one thing, but when you've got an open store and it does not appear as if anyone is stopping them from coming in and out there's some dangerous out that could be coming out of that store."
Sky Eye Chopper 13 also appeared to show one looter who backed up their car to the other side of CVS and was loading it up with goods from the store.
Another vehicle was seen driving onto the sidewalk directly in front of the store through the crowd.
Long said the group that caused damage to the CVS eventually looted a check cashing business.
Baltimore City Police Captain Eric Kowalczyk joined WJZ to explain how police were combatting the riots.
"Saturday we saw very peaceful protests and a small group of outside agitators turn violent. We saw that incredible level of restraint from our officers. Today was a different thing, our officers were attacked, they were attacked unprovoked and now we're shifting our resources in to make sure we're protecting everybody's life and doing everything we can to restore order."
Officers used mace and what appeared to be tear gas to disperse crowds. Several arrests have already been made.
"We don't want to see any level of unnecessary violence. We're using appropriate crowd control tactics. You're going to see us continue to use gas, pepper balls and other means in order to bring about order, but we have to do it in a way that's responsible," said Kowalczyk. "We can't rush in, we don't want to put innocent people at risk. We don't want to put our officers at risk and we certainly don't want to put the community at risk," he said.
City Council President Jack Young urged rioters to "stop the madness."
"We can not go back to 1968 where we burned down our own infrastructure and our own neighborhoods. We still have scars from 1968 where we had some burnt out building and businesses did not want to come back to the city of Baltimore. We have to stop the burning down and the breaking in of these stores because in the end it hurts us as a people," he said. "This is no reason to loot and rob in the city of Baltimore. The whole world is watching us and some people are even calling us animals."
99.1 WNEW reporter Steve Dorsey was attacked by one person while covering the riots near the CVS. "I was just about to do a live shot on the phone when out of no where a protester came up in front of me, shouted something at me, hit me in the face. I fell down and my phone dropped out of my hand and at that point he was going to kick me while I was laying down on the asphalt, and a few other protesters intervened and they pushed that guy back and I was able to escape with the help, limping, with some other protesters," he told WJZ's Mary Bubala.
Dorsey said he witnessed "nothing but chaos" as he covered the riots.
"I actually saw a fire truck pull up to the scene, stay about two minutes — there were only two firefighters on board — and just left. There was really nothing they could do in an uncontrolled chaotic scene like that. Also the back of a police van was completely wide open. A witness told me he actually saw someone steal a shotgun out of the van and leave with it," he added.
Senator Catherine Pugh joined WJZ's Christie Ileto shortly after the violent riots broke out. She urged parents to call their children and make sure they were safe.
"What the family of Freddie Grey has asked is that there be peace in the streets today and that even when we begin to protest again, and we know that people are looking for justice, let's do this peacefully," she said. "I'm looking down the street smoke, seeing cars being burned in our neighborhood. This is not the way. I'm asking people in Baltimore, please let's quell the violence. If we want to protest, we can begin tomorrow but let's do it in a peaceful way because that is the only way that the public gets to see that we care about our city, that we care about violence against our people and we can do better than what's being done today."
Residents were stunned by the chaos and disorder that controlled the area. One resident known as "Cool Anthony" on social media told WJZ's Marcus Washington he was hoping for a peaceful end to the situation.
"We have to live here, this is our home. We didn't live in the best neighborhoods as there was, but now it's like you all are breaking into stores and taking things like toilet tissue and dollar bills, for what? You're not doing it for Freddie no more, ya'al are doing it for your own personal enjoyment now," he said.
This all comes hours after the funeral for Freddie Gray, despite his family asking there be no protests
"The family is dead set against what they're seeing and hearing about violence. They know non-violence is the only way to deal with this problem. We don't need to hurt innocent people, innocent police officers, because the majority of police officers are law-abiding," said Gray family attorney Billy Murphy. "This is something that we need to come together as a community and get out in the streets ourselves and have peaceful marches to set an example for these kids. They don't know. They  just don't know."
Attorney General Loretta Lynch told President Obama she would continue to monitor events in Baltimore and the Department of Defense stands ready to provide any assistance needed.
Baltimore City Schools released this statement, saying:
"At this time of tension and anxiety regarding the tragic events surrounding Mr. Freddie Gray, we have a heightened responsibility to our students, families, and school communities. First, the safety of our staff and students is our top concern. We are in constant contact with the Mayor's Office, Baltimore City Police Department, and the City Health Department, and are coordinating with them to ensure we are ready to respond to situations as they arise. We will make crisis counselors and mental health professionals available at schools throughout the city for all of our students, and they will remain as long as it is necessary. Additionally, we have redeployed senior district staff and mobile units to assist in ensuring safe passage of our students between school buildings and bus stops."
We are also communicating with each one of our school leaders around effective instructional strategies to heighten student awareness and understanding of social justice issues. We are deeply concerned about our students and community, and we hope to treat this situation not only as a teachable moment but also a time for thoughtful reflection on how we can reduce conflict and violence in our society. We will continue to be vigilant in our support for all of the city's young people."
Anne Arundel County schools have canceled all field trips into Baltimore City through May 3.
Police are asking motorists to avoid the area of Gwynns Falls, Reisterstown and Liberty Heights.
E. Fayette is closed between and President and Gay streets as well.
The MTA says that due to police activity, trains will be bypassing Lexington, Upton, State Center, Mondawmin and Penn North Metro stations.
For a full list of closings and delays, CLICK HERE.