Complaint of Misconduct by Medley, Florida Police Officers Falls on Deaf Ears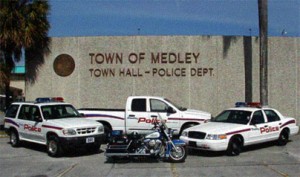 *The following post was submitted via CopBlock.org's submission tab by David Torres. This post is a letter David sent to the Medley Police Department seeking to file a complaint. He's never heard back and wanted to share the story publicly.*
To the police sergeant I spoke to on Monday, November 10, 2014 at approximately 4:30 P.M.:
Pursuant to our telephone conversation, I proceeded in visiting the Medley Police Department's (MPD) website to file a formal complaint – just as you had instructed – when asked how to file a formal complaint. However, after looking through the website I realized there was no way of actually filing a complaint online. What I did notice as I browsed through the MPD website was that the police officer that was associated with the violation of my constitutional rights was taken down from the website. The police officer was awarded the 'Chief Officer of the Year Award.' I'd very much like to know why, after having complained about this police officer a few days prior, coincidentally, her information and picture were taken down from the website?
I do comprehend that the filing of complaints are time sensitive. Yet, I thought it best to wait until both my cases were dismissed. The first, having to do with "Resisting arrest w/o violence" issued on October 29, 2014. The second, for not wearing a seatbelt (which I assure you, such charge was not veridical) issued on November 5, 2014.
VIDEO OF SEATBELT DISMISSAL BELOW

On August 8, 2014, sometime around 11 P.M., the vehicle to which I was a passenger of, was stopped by three Medley police officers: the exemplary recipient of the Chief Officer of the Year Award, Maria Duron, Officer Bolanos, and another officer whose name was never provided to me. These police officers requested I give my name in order for a seatbelt ticket to be issued – to which I contest due to the absurd erroneousness. Since there was no crime being investigated and since there were no grounds as to why a police officer would need my identification, I felt I was being violated. I only felt it right to ask officer Bolanos to allow me to speak to a supervisor. Bolanos immediately identified himself as a supervisor. Due to the fact that I had not committed anything wrong or inapt and did not possess with me my physical identification at the moment, when asked for my identification, I gave the officer the name I am often referred to, Dave Would (Not "Diego" as officer Bolanos wrote on my report).
When Officer Bolanos returned from his police vehicle and was not able to find me on his computer system, he aggressively and violently proceeded to swing the car door open intending to grab my wrist and pull me out. When I pulled my wrist away and disagreed to his instructions for fear of his vicious behavior, he immediately pulled out a taser gun just a few inches away from my face. Forthwith and fearful, I carefully removed my seatbelt and stepped out of the vehicle in hope that officer Bolanos would realize that I was more than willing to cooperate and just wanted to know why such aggression had just been demonstrated towards me. To my surprise, Officer Bolanos went ahead and placed handcuffs on my wrist with excessive tightness. He then went ahead and asked if I had any drugs or weapons in my possession to which none were found. After giving my legal, Florida ID name, a past charge for possession of the marijuana plant was used against me; a charge that had long been closed. The police officers began to interrogate me and offend me by insinuating and directing themselves towards me as an ill, homeless drug dealer or drug trafficking criminal- all offensive and equally untrue.
Afterward, I was needlessly and inappropriately patted down by Officer Duron. When I expressed my discontentment by her disapproving methods, she fomented the discomfort in the situation by directing the other unidentified officer to go forth with what seemed very similar to a cavity search. The more I questioned their excessive actions, the more excessive they became. Officer Duron kept me in the back of her police vehicle while verbally abusing me nonstop making the most degrading, needless and redundant comments. While I do understand that it is the police officer and not the civilian who wears the badge to be able to prove his/her authority, I do believe that offending/harming a civilian in any way or form is not something that their badge entitles them to (please, I ask for you to correct me if I am wrong). Officer Duron proceeded to transport me to the Medley police station for what she said would be for further questioning. Although, as previously stated, all three officers had already done on scene.
As if the words and the actions of the police officers were not already enough to cause a sense of malaise within me, Officer Duron's actions only continued to be inimical as she transported me to the Medley police station. First of all, she drove in excessive speed quite recklessly without a seatbelt and without providing me access to a seatbelt for my safety. When I brought both such things to her attention, she pretentiously stated she did not have to wear one and did not have to buckle a seatbelt for me, either. Now, as you read this, you must begin to understand the absurd irony of this entire situation since after all, I was in more imminent danger while riding around with a reckless driver who did not feel the responsibility to wear her seatbelt or placing one on me. And yet, that was the same exact reason why such police officers wanted to issue me a ticket with in the first place for not wearing a seatbelt, even if the fact that they stated I wasn't is not true. Who is more deserving of punishment then? If a civilian is still punished for his/her actions even if and/or when ignorant of the law, then how could an example setting police officer, who is well informed and aware of all traffic laws be excused?
The following is a summarization of what and why I feel each police officer did not handle my entire case correctly:
Officer Bolanos
Departing from the truth and knowingly making a false report: the officer did not commit to the truth when writing his report.
Harassment: The officer did not respect my rights and harassed me for asserting them with extreme tactics of intimidation.
Discrimination: the officer treated me as a violent criminal with no reason to do so; hence, why he attempted to fabricate a crime by attempting to provoke violence from my part.
Rough and careless handling of departmental equipment: For pointing a taser gun at a non-violent
person.
Unnecessary force: For attempting to physically pull me out of a vehicle which is the only thing I resisted to and not the actual arresting.(this includes not only unnecessary force or violence in making an arrest or in dealing with a prisoner, but also ridiculing, taunting, humiliating, and mentally abusing)
Malicious threats and assault: The officer had no reason to arrest me but continued to do so and that proves malicious intent. He also stated that he wished either I or the driver had given him a reason to shoot us. "Just give me a reason" he said jokingly to the other officers as they laughed.
Officer Maria Duron (awarded Officer of the Year Award)
Aiding another officer to proceed with extremity: Duron was fully aware of what was going on and was miserably content that it was occurring. Being the key person in fomenting this entire situation, this demonstrated not only immaturity and lack of professionalism but also, malicious intent.
Driving rapidly and aggressively on the way to the station without wearing a seat belt putting not only our lives in danger but the lives of other drivers on the road.
Harassment: this also includes ridiculing, taunting, humiliating, and mentally abusing.
Unidentified officer
Aiding another officer to proceed with extremity: Also at the scene and fully aware of the circumstances, this officer produced another unnecessary pat down. I told the officer that it was unnecessary and he said " I don't tell you how to do your job don't tell me how to do mine".
*All events took place on NW 74th Street by 72 Avenue, Medley, Florida, near the police station which is located on 7777 NW 72nd Ave, Medley, Florida 33166.
To conclude, I hope that you can see the ramifications of this behavior. In case you don't, for my safety and for the safety of my family, friends, and people of the community, I am making this complaint public. It will be published on social media, local news stations and politicians. If it could happen to me it could happen to anyone. I demand that a formal investigation take place immediately and that the officers take a psychological assessment test.
I suggest that police officers wear "non-selectively malfunctioning" body cameras and that they have professional liability insurance to prevent criminals in police uniform from getting away with abusing an authority given to them by the people they abuse. To be clear, on August 8, 2014, the police misconduct I experienced was abuse of authority, abuse of process, conduct unbecoming a law enforcement officer, lack of courtesy, lack of professionalism, and neglect of duty. My 1st ,4th, and 5th Amendment rights were violated. If the police officers I encountered that night are a representation of the Medley police department and would like to seek retaliation (as they did every time I asserted my rights), I would invite them to schedule a public execution. I would ask them not to hide behind their badge, gun, and fabricated crimes against me as they did that night when they threatened to take my life if I continued to "resist".
Thank you for taking the time to read this letter. I await your response and update(s) on the investigation. A.S.A.P.
Sincerely yours, a concerned citizen.
David Torres