First Degree Murder Charge for Portsmouth Killer Cop Stephen Rankin
Another Virginia police officer has been indicted for murder in the shooting death of an unarmed man, this time in Portsmouth, which appears to be quickly gaining infamy as a hotbed of police misconduct. On September 3rd Officer Stephen Rankin of the Portsmouth Police Department was indicted for first degree murder and use of a firearm in commission of a felony for the death of William Chapman II. According to a leaked autopsy report, 18-year-old Chapman had been shot in the face and chest from a distance, not during a physical struggle, as Rankin told investigators.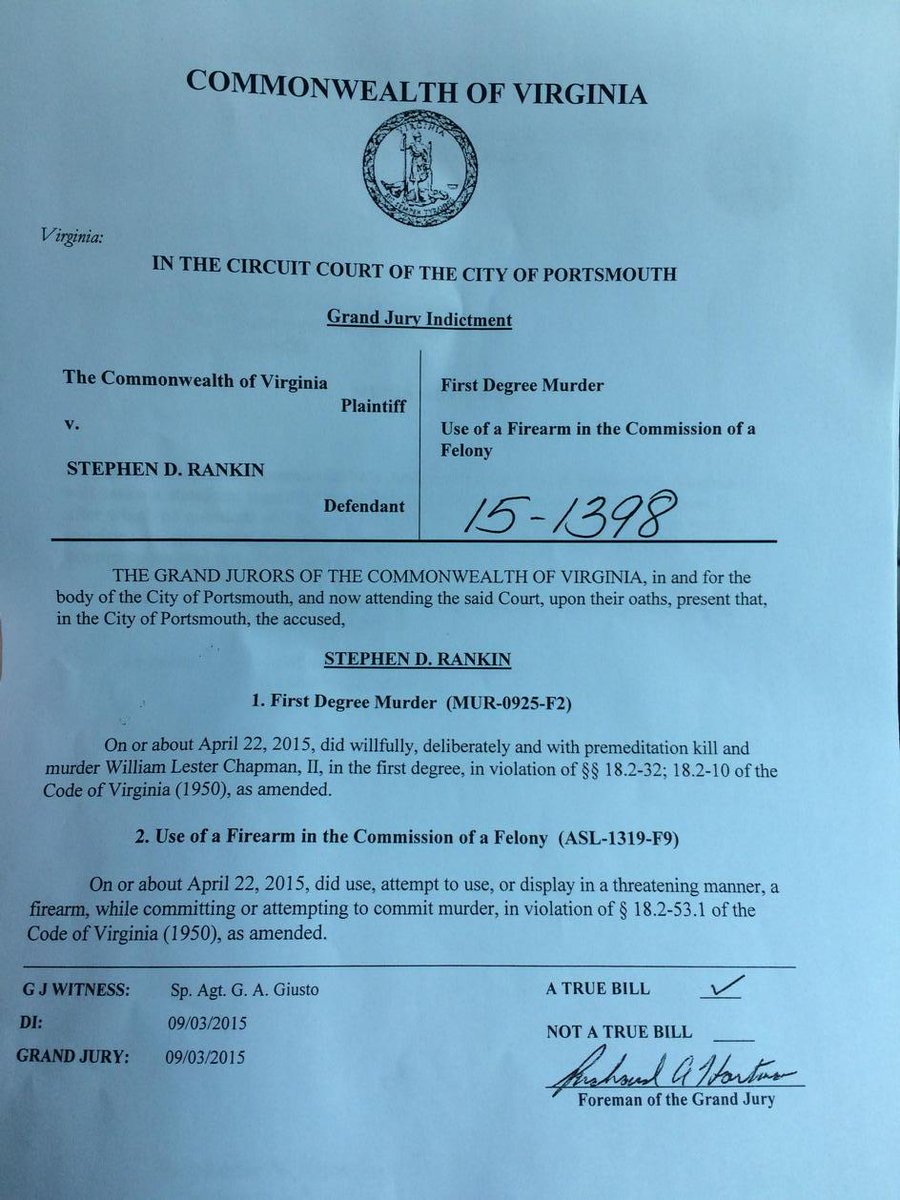 On April 22nd Officer Rankin encountered Chapman in a Walmart parking lot while responding to a report of suspected shoplifting. There is no video of the incident, but according to the Portsmouth Police Department, there was a struggle between the two men, during which Rankin shot and killed Chapman. Unidentified police officers performed CPR on Chapman, but he was pronounced dead at the scene. "Scuff-like abrasions on the 18-year-old's face and chest indicated he was rolled on to his front, cuffed, then rolled back again, after being fatally shot," but there is no indication of whether this was done before or after CPR was initiated.

William Chapman's mother describes learning about his death from news reports
According to the Guardian, "Police and store managers still have not said if Chapman was found to have stolen anything from Walmart. The autopsy report lists clothes and shoes as his only personal effects, including a pair of trousers with the pockets turned inside out."  An attorney for Chapman's family states he has found no evidence of any shoplifting and that he believes Chapman turned his pockets inside out to show that they were empty.
Although autopsy results must have been made available to them earlier, the prosecutor's office did not seek an indictment against Rankin until details from the leaked autopsy report emerged. It's possible that the prosecutor had already intended to seek an indictment and it's just a coincidence that they waited to act until the same week the Guardian article was published; However the secrecy and lack of response from public officials prior to the leaked autopsy report makes the timing seem suspicious. As the Virginian-Pilot noted about Chapman's death, "those outrageous details demand explanation and context. None has been forthcoming from Portsmouth or the state police, which are acting with an imperiousness that has no place in government."
That prosecutors may have stalled on pressing charges until after details of this brutal killing had been made public, is not the first nor the most disturbing finding in this case. For that you have to look into Rankin's work history with the Portsmouth police department, a history that reveals a dangerous, disturbed individual who should not have been patrolling the streets with a badge and gun;  Rankin killed William Chapman almost four years to the day after he shot and killed another unarmed man under suspicious circumstances.
In April, 2011 Rankin shot Kirill Denyakin, a 26-year-old immigrant from Kazakhstan, 11 times while responding to a report that Denyakin was causing a disturbance outside of a house he was staying at.  Rankin claimed that the other man charged at him, and also employed the classic excuse of "he was reaching for his waistband" in explaining his excessive actions. Nevertheless, Rankin found himself charged with voluntary manslaughter following an investigation by the Virginia State Police, and also the subject of a $22 million dollar lawsuit brought by Denyakin's family. Unfortunately, the grand jury failed to return an indictment, the family lost the lawsuit, and Rankin was cleared and returned to work following a three year suspension.
Rankin exhibited a sociopathic lack of remorse through a series of disturbing online postings following the Denyakin shooting.  Reports in the Guardian and Virginian-Pilot newspapers, show Rankin's online activities included:
referring to his firearms case as "Rankin's box of vengeance" and writing that it "would be better if i was dirtying them instead of cleaning them!"
using a photograph of a Serbian citizen left hanging from a lamp post by invading Nazi forces in 1943 as his Facebook profile photo
using the pseudonym 'yourealythinkthat' to post 246 comments supporting his own actions, such as, "What's the difference if it was one round or 11 rounds or 111 rounds? When I was in Iraq, that would have been a good shoot. In fact, nobody would have really given it a second thought."
The police department launched an internal investigation into Rankin's bizarre online behavior, but the outcome is still unknown. It is known, however, that Rankin was described as being "afraid of his own shadow" by one of his colleagues, had received several excessive force complaints, and senior officials in the department had been "formally warned by one of Rankin's supervisors weeks before his first fatal shooting that he was 'dangerous' and likely to cause someone harm." The police chiefs also refused to allow Rankin back on the street for three years after he killed his first victim. Since officials are unwilling to comment on what they refer to as a "personnel matter," it is not known why Rankin was ever unleashed unto the public and allowed to strike again.
It's likely Rankin's reinstatement was due to the pernicious and undue influence of the local police union interceding on his behalf and demanding that he be returned to duty. It's an all-too-familiar pattern with police unions, which behave as though it is completely inconceivable that there is such a thing as a bad cop. Since police unions are so active in keeping dangerous cops on the street, perhaps they should also be forced to be active in paying for the havoc these killer cops wreak by being named defendants in the inevitable lawsuits that result. Perhaps then they wouldn't be so quick to excuse and advocate for cold-blooded murderers.
Just as in the John Geer murder case in Fairfax County, the Portsmouth Commonwealth's Attorney also argued against granting bond for Rankin, citing mental instability. Unfathomably, the judge instead set bond for  $75,000 in a first degree murder case, which Rankin was able to post the same day; He remains at large in the community pending his trial.