ABC10 Airs Story on NEO-NAZI "Blue Crew" Campaign Supporting Law Enforcement
"You're bound to spot one around the corner, on a tree, or on a lamp post in Folsom, blue ribbons tied into little bows.
They were put there by a group calling themselves the Blue Crew. A group made up of community members who all wanted to show the men and women of law enforcement, they back the blue."
That's the beginning of a fluff piece ran by ABC10 about Derik Punneo, an active neo-nazi responsible for stabbings during the most recent showdown between white supremacists and anti-fascists at the California State Capitol. Eight people were stabbed.
Derik was eventually escorted away from the Capitol by police, who determined the stabbings were in self defense.
"We're out here just trying to show support for those who risk life and limb for our safety and our security," Derik Punneo told ABC10.
Punneo and his girlfriend Manda Boone were out in the heat on Saturday morning around El Dorado Hills, tying bows around as many trees they could. Boone is a member of the Blue Crew. She said she wanted to take part in decorating Folsom when she realized she could lead a group of her own in her neighborhood.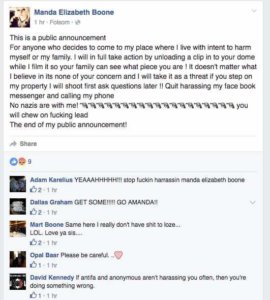 When Derik Punneo isn't putting up blue ribbons in support of law enforcement, or stabbing people, he's trying to rape women with his skinhead gang.
Two of Punneo's associates were arrested and charged in 2010 after they kidnapped two people that called the police on Punneo after he attempted to rape a woman. According to court documents:
The prosecutor's recitation of the factual basis for the plea stated codefendant Derik Punneo was arrested for attempted rape and resisting arrest after he assaulted a woman and was forced out of the house by two others, who called the police. While Punneo was in custody, he contacted defendant and codefendant Taylor Schwartz, told them what had happened, and accused the victims of stealing his money. Defendant and Schwartz found the two who had called the police; forced them into a car; drove them home; ransacked their house; beat up the man; and threatened that, if the victims went to court, bad things would happen and their house would be burned down.
The document went on to state:
The prosecutor stated there was information that Punneo, Schwartz, and defendant were members of a skinhead gang and that Schwartz and defendant aided Punneo because they were all skinheads. Both Punneo and Schwartz had tattoos and indicia of being members of the skinhead gang; and a gang expert would testify that Punneo, Schwartz, and defendant all acted for the benefit of a criminal street gang and participated in a gang known as the skinheads…Thereafter, defendant pled guilty to being an active member of a criminal street gang…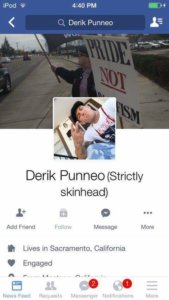 ABC10 says Punneo understands how dangerous a life in law enforcement can be. 
Derik Punneo the white supremacist: "Something as monumental as you know, risking their lives to ensure our future, it's huge!"
ABC10 supports Punneo's rhetoric with statistics from the National Law Enforcement Officers Memorial Fund:
Especially now more than ever. On Thursday, San Diego officer Jonathan "JD" DeGuzman, 43, was shot and killed on the job. According to the National Law Enforcement Officers Memorial Fund, DeGuzman is one of 34 law enforcement deaths related to firearms in this year. A 79 percent increase for the same period in 2015. From January to July of 2016, a total of 69 officers have lost their life across the country.
Blue Crew Member Apryle Hitchner told ABC10:
"We need to come together as a community across the nation," she said. "We feel safe with them around and we want them to also feel safe that we have their back."
Originally published at Fresno People's Media