CopBlock Movie Celebrates Fifth Anniversary on Sunday With FREE Theatrical Screening, Q&A!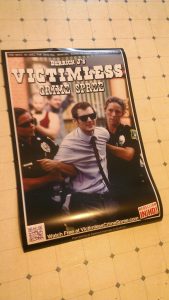 Recently Derrick J Freeman announced a special five-year anniversary screening of his epic Cop Block documentary film, "Derrick J's Victimless Crime Spree" to take place in Portsmouth this Sunday 9/17 at 7pm at the Seacoast Repertory Theatre. The movie features multiple infamous Cop Blockers such as Cop Block founders Ademo Freeman, Pete Eyre, and several other high profile NH police accountability activists. Admission is free, first come, first seated. Refreshments will be available for cash, bitcoin, or DASH. If you're new to Victimless Crime Spree, it's a feature length, 90min documentary that was originally recorded and edited in Keene, NH (with a little footage from Derrick's previous home of Philadelphia). Here's how Derrick has described the movie from his perspective today which he included this on the facebook event for Sunday's screening:
Victimless Crime Spree is the story of Derrick J, a lovable rebel on a mission to achieve freedom and independence from government. He moves from Philadelphia to New Hampshire for the Free State Project and almost immediately finds himself behind bars. Despite his friendliness to the cops and government bureaucrats, they keep putting him in cages. Inspirational, intelligent and fearless; this documentary demonstrates the will and perseverance of civil disobedience activists that risk their liberty for hope of a better world. If you don't already, this movie will leave you questioning your relationship with "authority."
After the screening, we'll have a Q&A with Derrick J and also do a raffle for one of only five existing original theatrical release posters from the movie's theatrical premiere in Keene back in September of 2012.
Since its release, the movie has racked up more than 175,000 views on YouTube, sold hundreds of DVDs, and received plenty of positive reviews and ratings, with an 8.6/10 on IMDB and 4.3 stars on Amazon! Those aren't the only measures of the movie's success, however. It's also accomplished helping turn libertarians on to the NH Freedom Migration and multiple people have cited it as their reason for moving to New Hampshire. It's also introduced new people to the ideas of liberty. I really couldn't be more proud of what Derrick and editor Beau Davis created and am honored to be the film's executive producer.
Whether you're new to the movie or are a longtime fan, we'll look forward to seeing you at the Seacoast Rep in Portsmouth at 7pm this Sunday, September 17th for this special theatrical presentation. Bring a friend! If you can't make it on Sunday, you can always watch it for free online anytime or hold your own screening where you live!
Finally, if you're around Portsmouth a little earlier in the day, be sure to stop into Derrick's new "Free State Bitcoin Shoppe" as they are having their grand opening from 12p-6p!