Police State Monday: Cops Kill Teenager, and Kill Teenager, and Kill Veteran AND MORE
Every Monday, the Angel Clark Show is dedicated to highlighting police abuses.
[spreaker type=standard width=100% autoplay=false episode_id=4495110]
Today we discussed:
A young man's baked goods could potentially land him with a harsher punishment than a rapist or a murderer.  The teen faces a a maximum sentence of life in prison if convicted of using unsanctioned ingredients in his cookies and brownies and selling them to eager customers.
A teen on his way to go on a date was shot to death on the side of the highway during a traffic stop.  Police have been vague with details and his family is demanding answers.
The incident occurred along Highway 86 on April 18th, just before 6:00 p.m.  Imperial County Sheriff's deputies pulled over 19-year-old Adrian Parra while he was on his way to take a girl out to enjoy dinner and a movie.
Tommy Yancy, 32 and father of two, was savagely beaten to death by five law enforcement officers during a routine traffic stop near the city of Imperial, California last Sunday, on Mother's Day. Yancy, a veteran who suffered from PTSD, served in Afghanistan and Iraq in the 259th Field Service Unit following the 9/11 attacks.
A man is "fighting for his life" after being shot during a pre-dawn SWAT raid on his home because of suspected drug possession.  His son was beaten and his dog was shot to death.
The 7th U.S. Circuit Court of Appeals has ruled that it is not a violation of constitutional rights if police break down a citizen's door, search the home, and confiscate firearms, so long that they believe it is in the citizen's best interest.
An Ohio woman was injured and then charged with resisting arrest after a sheriff's deputy wrestled her to the floor and pried open her mouth after she took a prescription pain reliever.
Daniel Linsinbigler was a good kid. Like any other teenager, he'd made his share of mistakes. One day Daniel made a choice to partake in the popular and once legal drug, synthetic marijuana. Apparently suffering from a psychotic reaction to the substance, Daniel stripped naked and ran through a Stay Suites Inn in Orange Park. He was yelling bible scriptures and proclaiming he was Jesus, but did not hurt anyone, nor did he cause any property damage.
However he was arrested and jailed for 10 days. While in jail he was strapped into a restraint chair, pepper sprayed, hooded, and eventually asphyxiated and died.
A man having a mental episode was brutally beaten to death with flashlights, batons, and tasers as horrified onlookers watched.  Witnesses and video confirm the man was crying out for help as repeated blows from police officers fell upon him in a darkened parking lot.
A police officer suffered fatal injuries while performing a pre-dawn no-knock raid on a local residence to  search  for drugs.  Several officers were shot by a resident as they tried to enter an apartment through a ground-level window under the cover of darkness.
A charitable couple that devotes weekly time to feeding the homeless and hungry have been slapped with matching $375 fines as recognition for their acts of kindness.  The town and county are deploying police to forcefully stop and punish people who privately feed the homeless because it reduces the need for government-run social services.
A county zoning board's politically-motivated rezoning efforts are endangering local aqua-farmers in their ability to use their own property to raise crops and produce food.  Just minutes from the spot where American revolutionaries accepted the surrender of the British in 1781, one American oyster farmer is now forced to fight to keep the imperiled "right to farm."
A number of Philadelphia city judges will stand trial in the coming weeks after being accused of organizing a ticket-fixing scheme that benefited politically-connected members of the city, an issue that compelled officials to ban traffic court altogether.
A judge in New York City on Monday morning sentenced Occupy Wall Street activist Cecily McMillan to three months in jail and five years' probation for assaulting a police officer during a 2012 protest.
A 5-year-old son of a deputy in North Carolina is recovering after he shot himself with his father's service weapon over the weekend.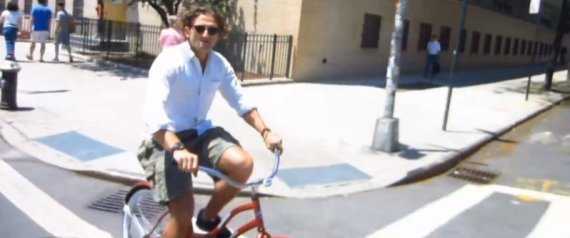 Casey Neistat, the East Village-based film maker who taught us about Chatroulette and that red subway emergency brake is at it again, this time making a video about his experience getting a $50 ticket for not riding in the bike lane.
On May 3, 2014, we attempted to record an Urban Shield training drill in Boston. The drill we attempted to record was police practicing what to do if a bomb went off at an MBTA station. The event took place in a public place, was open to media, and even had a sign posted nearby which said "Observer Check In." Despite this, we were threatened with arrest by Boston police simply for standing and recording on a public sidewalk across the street from the drill and were ultimately removed from the area.
There is a disturbing report out of San Bernardino County where Sheriff's deputies claimed that they fired 13 rounds, wounding Keivon Young. Young, 18, had been mistaken for a murder suspect, Robert Pope, yet the police did not identify themselves. However, they said that Young was "sneaking through the people's front yards and hiding behind bushes" and fired after he reached into his waistband and "withdrew two knives." Young's attorney says that police transcripts show that the knives were discovered after the shooting.
The police had staked out the home because Pope's sister had once lived there.
Just mere minutes after an aspiring police officer called 911 stating he was being harassed by two off-duty Buffalo cops, as well as the management of a bar he was in, 28-year-old William Sager was beaten unconscious before getting thrown down the stairs. He was then placed in handcuffs even though he was out cold.
"Her eyeballs were literally blown into pieces, and the person who did this was a police officer."
Monique Hernandez was pulled over in February of 2012 by Beaumont police officer, Enoch Clark. When Clark attempted to subdue Hernandez, he said she 'resisted.' Although the dashcam footage tells a different tale, Clark said that in order to get her in handcuffs, he had to use his department-issued JPX gunpowder-propelled pepper spray weapon and fire it less than a foot away from her face.
A city cop in Arkansas chased a woman through her workplace, shooting a Taser at her, because she refused to show him her breasts, the woman claims in court.
The Drug Enforcement Agency, in coordination with Customs/Border Protection, began a nationwide synthetic drug takedown called "Project Synergy Phase II" serving 200 search warrants in 29 states across the country on Wednesday, May 7.
Two Seminole County deputies are accused of frequently abandoning their jobs to have an extramarital affair. Investigators were tipped off about the affair by Deputy Joseph Fetchick's wife, who found thousands of explicit text messages on her iPad. The device was linked to the deputy's phone.
Andrea Dingess, has uploaded a video to facebook that shows just how much Lincoln Park PD, care about one of their own assaulting a 6 month pregnant woman.
A student has been suspended from Dubuque Senior High School after police found a BB gun pistol in his car — a car that was parked off campus.
Albuquerque police have promoted a commander accused of burning off part of a homeless man's ear with a stun gun.
A shocking video made at J.O. Johnson High School seems to show a school resource officer tackling a student to the ground, and that student immediately having a seizure.
An Indiana man has launched a lawsuit against police, saying they fudged his alcohol level numbers on their traffic stop report, forced him to provide a blood test at a nearby hospital — and then demanded he lay still while a nurse inserted a catheter and withdrew urine.
Never could I imagine a situation in which two grown men would need to taser a 94 pound, 10 year old child to subdue him. But apparently Indiana police can.
So many people believe that having police in schools is a great idea, and will "keep our kids safe". Miami-Dade Schools Police Department Officer Juan Cecchinelli was a school police officer, but was removed from his position after was caught sexting a student.
Immigration and Customs Enforcement agents held a Mexican citizen in solitary confinement for five months after beating him and denying him medical treatment, the man claims in Federal Court.
Albuquerque police officer Jeremy Dear's lapel video wasn't recording when he allegedly punched a man while trying to arrest him during a Downtown brawl in January 2013.
His lapel video wasn't recording when he allegedly kicked a man in the genitals during a traffic stop a month later.
The former Centralia police officer accused of excessively Tasing people will get his job back and is entitled to retroactive pay, an arbitrator ruled Tuesday.
A TSA Supervisor was arrested at Kennedy Airport accused of setting up a meeting in the Dominican Republic to engage in sexual activity with minors.
The Angel Clark Radio Show Is Produced By Famous Dave In the Studios of Radio freedom.
Who is Angel Clark?
Angel Clark is a talk radio host, a syndicated writer, an activist and lover of Liberty.
With her unique, fast-paced, witty sarcasm Angel Clark brings you the news of the day with a creative individualist twist.
She has appeared on numerous televised news sources. Her writings have been featured in both local and national avenues. She has been interviewed by numerous talk show hosts over the years. She has been a guest speaker at rallies and has interviewed hundreds of guest including presidential candidates.
Angel writes for numerous sites including Examiner.com, noarmycanstopanidea.com and her own personal website SussexCountyAngel.com or on radiofreedom.us
You Can Hear The Angel Clark Show LIVE
Mon. – Fri. 5PM to 7PM EST. on RadioFreedom.us
See you in the chat ROOM!