Police State Monday: Toddler In Coma After SWAT Raid, 83-Year-Old Man Given Drug Charges After Pharmacy Gives Wrong RX, AND MORE
Every Monday, the Angel Clark Show is dedicated to highlighting police abuses.
[spreaker type=standard width=100% autoplay=false episode_id=4562071]
Today we discussed:
The story of former intelligence contractor Edward Snowden isn't going away anytime soon: Famed American film director Oliver Stone now says he'll bring the National Security Agent leaker's saga to the silver screen.
An Ohio police chief has been suspended without pay from his $32,000-a-year job, and faces 12 criminal charges — five of them felonies — after authorities say he harbored and continued to date a woman being sought on drug charges.
A SWAT crashed through a family's door in the middle of the night and threw a concussion grenade into a baby's playpen.   A 19-month-old baby was horribly disfigured when it exploded in his face.  [Graphic]
The toddler severely burned and left unable to breathe on his own when a Georgia SWAT team threw a flashbang grenade in his crib during a Thursday drug raid is preparing for another surgery on Monday… all for a single meth sale of $50.
"Bou" is now in a medically induced coma, and it could be weeks before it's known if he'll survive and what treatment he'll need. The family was only supposed to be in Georgia temporarily after a fire at their Wisconsin home.
Now, the family of six faces weeks of uncertainty, unsure how long the boy will be hospitalized, and where they'll live in the meantime.
"The dad said they have nothing to do with (drugs),"
The family is angry, but hopefully the boy makes a full recovery. His sisters, ages or 3, 5, and 7.
http://www.gofundme.com/9mih84
But this same task force has a history. Read about a settlement in the death of Jonathan Ayers, an innocent pastor that this same drug task force killed in a drug operation.
A lawsuit filed against the city of Sherman, Tex. alleges that a woman was beaten following a traffic stop until she was brain dead, that one officer gave orders to "tase the bitch," and that police forced a bystander to stop filming the incident.
A father was arrested when he gave his son the "old school" punishment of walking one-mile home from school to think about what he had done.
Police were asked to retrieve a bottle of pills that hat been incorrectly issued to an elderly patient.  When the 83-year-old man asked that police "sign for" the pills before leaving his home, the officer became violent and threw him to the ground and arrested him on felony charges of drug possession and theft.  His 76-year-old-wife also received a knee to the back as she was arrested and charged with obstructing.
An Oklahoma police officer is accused of firing his gun at two teenagers he caught making out in a car parked in a public school lot.
A man who had just been carjacked and robbed at gunpoint called the police to report the crime. He says the police almost treated him as badly as the criminals did.
Students at a California high school were forced to hunker down as SWAT teams with weapons drawn searched their entire campus for weapons.   The effort included a warrantless search of students' vehicles, lockers, backpacks, and classrooms.  The long 4-hour detention reportedly forced some students to urinate in darkened classrooms.
An Oklahoma family accused local law enforcement of pointing his gun at two young children before shooting and killing one of their dogs.
Gubernatorial candidate Chris Holbrook was arrested for exercising his 1st Amendment rights while in a public park.  He and some supporters were peacefully gathering signatures  to achieve ballot access — a fundamental political freedom — but police insisted that he needed a permit and placed him in shackles.
Recent Pentagon directives contain some alarming text regarding the extents of military involvement in domestic emergencies and the advancement of the War on Terror on domestic soil.  Specifically at issue is the use of drone surveillance and military force against American civilians within the United States of America.
Jal, New Mexico police chief Larry Burns was caught on camera — on two different occasions — having sex in and around a city ambulance. But while his actions were inappropriate, and got him suspended for two weeks, the chief is keeping his job and the officer who planted the camera is getting canned.
The Federal Housing Finance Agency (FHFA) has given notice of its intent to database a large number of very personal data points on every American who possesses a mortgage — which may include as many as 227 million Americans.   These points include things like financial histories, credit card balances, credit scores, personal demographics, lists of assets and property, family information, and more.
A police sergeant enacted a plan to frame an an innocent citizen with felony drug charges.  When caught and found guilty,  his malicious scheme to ruin someone's life only earned him a paltry sentence of 30 days in jail — just a fraction of what he intended to inflict on his victim.
One security officer then ordered the student, identified as freshman Francisco Martinez, to move along and either Martinez didn't comply or was slow to do so, according to Abdel-Qawi.
Opponents of mass government surveillance are braced for the June-5 campaign for a free and secure internet, led by some of the world's largest websites. A massive electronic 'Thunderclap' is planned for the first anniversary of Snowden's revelations.
Better training and more federal funding would help airport officials and police prevent shootings like the one that killed a Transportation Security Administration officer in Los Angeles in November, a House panel heard Thursday.
"Several unidentified police officers were working this particular robbery case, recognized one of the suspects in the photographs as being a member of the Detroit Police Department," Chief James Craig said Monday.
Now under arrest are two police sergeants, a 47-year-old officer and 20-year veteran of the Detroit Police Department and his 42-year-old buddy from the police academy, who is a former DPD cop and 17-year veteran of the St. Clair Shores Police Department. The later recently received a distinguished service award.
Maryland police early on Friday killed a 20-year-old man armed with a pellet gun that officers mistook for an assault rifle, a police spokeswoman said.
An Arkansas police officer who pointed a gun at his 5-year-old stepson's head and threatened to blow his "Jewish brains out" has resigned after charges were filed against him.
A video of yet another brutal tasering has gone viral on the internet, also highlighting how police are increasingly targeting people who film their heavy handed actions.
The video shows two police officers from Springfield in Illinois, pinning a young male suspect on the ground. As he writhes beneath them, one of the officers deploys and uses it on the suspect at point blank range. The crackle of the electricity from the weapon can be heard.
A California veteran suffered a stroke that eventually killed him nearly three years ago after police beat him up when he tried to leave a Veterans Hospital with a shunt in his arm, according to a lawsuit filed by the man's family.
Steven Peers, a 46 year old father of four was recently arrested in Manchester for impersonating a police officer.  Mr. Peers was not attempting to commit any crime, but was actually wearing a noticeable costume in hopes to call attention to, and raise awareness about police corruption and misconduct.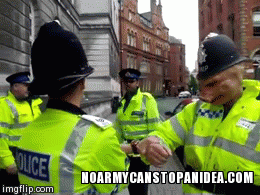 The Angel Clark Radio Show Is Produced By Famous Dave In the Studios of Radio freedom.
Who is Angel Clark?
Angel Clark is a talk radio host, a syndicated writer, an activist and lover of Liberty.
With her unique, fast-paced, witty sarcasm Angel Clark brings you the news of the day with a creative individualist twist.
She has appeared on numerous televised news sources. Her writings have been featured in both local and national avenues. She has been interviewed by numerous talk show hosts over the years. She has been a guest speaker at rallies and has interviewed hundreds of guest including presidential candidates.
Angel writes for numerous sites including Examiner.com, noarmycanstopanidea.com and her own personal website SussexCountyAngel.com or on radiofreedom.us
You Can Hear The Angel Clark Show LIVE
Mon. – Fri. 5PM to 7PM EST. on RadioFreedom.us
See you in the chat ROOM!
SHARE with your friends.