Police State Monday: Teenager Beaten For Breaking Curfew, Man Beaten Unconscious For Not Showing ID, Updates On Eric Garner, AND MORE
Every Monday, the Angel Clark Show is dedicated to highlighting police abuses.
[spreaker type=standard width=100% autoplay=false episode_id=4761106]
Today we discussed:
A man died following a brutal arrest in which NYPD choked him and slammed his head against the sidewalk. Police say they suspected him of selling cigarettes without government permission.
The NYPD officer seen on video placing Eric Garner in a chokehold and bringing him to the ground with the help of three other officers Thursday outside of a Bay Street beauty supply store has been placed on modified assignment pending further investigation, an NYPD spokesman confirmed Saturday.
Four emergency responders have been put on modified duty while authorities investigate their response to a man, suspected of selling untaxed cigarettes, who died after New York police put him in a chokehold, a fire department official said on Sunday.
The Civilian Complaint Review Board has received charges of about 1,022 instances since 2009 in which New York Police Department (NYPD) officers were accused of using chokeholds. Use of such holds are prohibited by the NYPD's patrol guidelines, which outline a chokehold as a "any pressure to the throat or windpipe, which may prevent or hinder breathing or reduce intake of air."
NYPD Officer Daniel Pantaleo, who was caught on video putting 43-year-old Eric Garner in an apparent chokehold resulting in death last Thursday over suspicion of selling loose cigarettes, has already been named as defendant in two civil suits that alleged improper police conduct including lying and false arrest.
When a family residence was disturbed in the middle of the night by men dressed in black rattling doorknobs and aiming red laser sights in the window, a homeowner did what he felt necessary to defend his family. While harming no one, the man's act of self-defense with a firearm landed him with charges of firing at police officers and put on trial.
When you're in a steady relationship, communication is clear. Because when mom says to do one thing, and dad says another, the kids get really confused. Such is the case in California, where the state has issued rules for homeowners to conserve water in the midst of extreme drought, with fines of $500 per day or violating those guidelines, but one city is threatening to fine a couple $500 — unless they water their lawn.
 A city council has voted unanimously to impose a public dress code, enforceable by the police, and punishable by fines and up to 6 months in jail.
 A teen's evening excursion for ice cream resulted in her going to the hospital in a neck-brace, after police found her and her friends in public just a few minutes past the government-imposed curfew for minors.
The subject of a controversial beating from 2011 has died following his traumatic brain injury. A mumbling, elderly dementia patient was kicked to the ground and beaten by an officer who feared that his life might be endangered by the man's 'aggressive' walk towards him. The officer was later found to have tampered with his dash-cam, but remains on the Melbourne Police Department to this day.
A pedestrian suffered numerous injuries following a confrontation with police officers who violently demanded his identity.
State beverage cops showed up at a retirement community to demand that residents not be served alcoholic beverages, even while on private property that they call home.
A Miami Beach homicide detective was taken into custody Saturday, accused of having sex in a police car with a runaway teen he invited to live in his home.
The coercive nature of the state is necessary for its existence. All decrees handed down from the 'wise men' on high, are upheld and enforced on the promissory action of state sanctioned violence.
Recently, a Texas appeals court judge named Nora Longoria was caught going just over the speed limit while traveling drunk in her Lexus late one evening.  When she was pulled over by police she immediately flashed her badge and told them that she was a judge.
Forest Thomer was flipping people off as they drove by Friday afternoon to express his freedom of speech and to garnish some attention for his Facebook page called "Art of a Mother Fucker." Highland Heights Police officer Dave Bruener showed up and shut him down.
During an Industrial Development Meeting at Greeneville Light and Power, US Veteran, Eddie Overholt was arrested for asking a city official to speak louder.
The last time Lois Womble saw her 1990 Buick, a Hamlet police officer sat behind the wheel and drove it away after a traffic stop.
The U.S. government is rapidly expanding the number of names it accepts for inclusion on its terrorist watch list, with more than 1.5 million added in the last five years, according to numbers divulged by the government in a civil lawsuit.
A police chief in Wisconsin was charged on Thursday with creating accounts on pornographic and dating websites under the name of a local Tea Party advocate to even a score with him, court records showed.
The son of a Joliet, Illinois, police officer awaiting trial for the strangulation murder of two men has filed a complaint with a Will County judge complaining about the lack of diversity in the jailhouse menu, too small towels, and overpriced items in the jail commissary.
A vigilant citizen with a camera has done a perfect job of filming the hypocritical standard of which cops frequently adhere.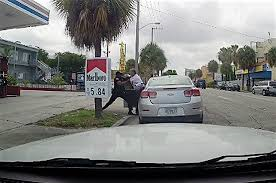 A Miami police officer pulled a car over for speeding last month, which turned out to be a plainclothes internal affairs lieutenant who shoved the door open on the officer after refusing to provide his drivers license, leading to a struggle on the side of the road that was caught on camera.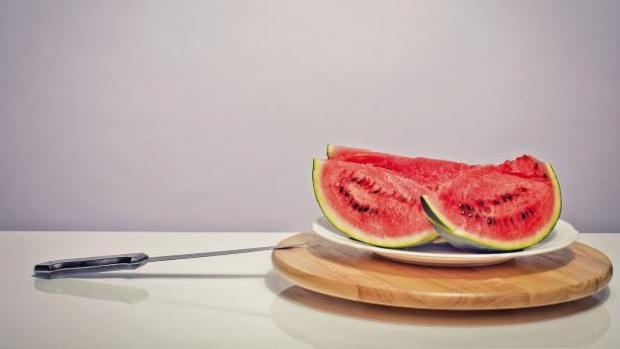 They say she later returned home to find the watermelon on the counter with a butcher's knife in it. She reported that Cervellino then entered the room and began carving the watermelon. She called the incident passive-aggressive and menacing.
An 8-day-old infant was inadvertently locked in a car on the way out of the pediatrician's office. The firefighters couldn't get the door unlocked, so the doctor, Stacey Williams, got a hammer from her office to break the car window and free the baby, even though this wasn't quite the way the firefighters preferred to deal with the situation.  Enter Metro cop and brave hero, Michael Pyle.
Thirty strippers in the San Diego area filed a lawsuit against the San Diego Police Department on Wednesday, saying they were forced to be photographed while nude or nearly nude while officers claimed to be inspecting the clubs where they worked.
A Georgia police officer won't be charged in the fatal shooting of a teenager holding a video game controller — even though a previous grand jury found the use of force was not authorized.
A former Colorado police officer who was found guilty of abusing a 15-year-old girl over a period of years was sentenced to 30 days of work release and three years of probation this week.
A 17-year-old Florida boy was sentenced to 23 years in prison on Friday for the fatal shooting of a retired police dog.

The Angel Clark Radio Show Is Produced By Famous Dave In the Studios of Radio freedom.

Who is Angel Clark?

Angel Clark is a talk radio host, a syndicated writer, an activist and lover of Liberty.

With her unique, fast-paced, witty sarcasm Angel Clark brings you the news of the day with a creative individualist twist.

She has appeared on numerous televised news sources. Her writings have been featured in both local and national avenues. She has been interviewed by numerous talk show hosts over the years. She has been a guest speaker at rallies and has interviewed hundreds of guest including presidential candidates.

Angel writes for numerous sites including Examiner.com, noarmycanstopanidea.com and her own personal website SussexCountyAngel.com or on radiofreedom.us

You Can Hear The Angel Clark Show LIVE

Mon. – Fri. 5PM to 7PM EST. on RadioFreedom.us

See you in the chat ROOM!

EPN2