Police State Monday: Cops Shoot A Cat, Children Get Felony For Peeling Bark From Tree, Man Detained For 8 Days For Posting Lyrics On Facebook, AND MUCH MORE!
Every Monday, the Angel Clark Show is dedicated to highlighting police abuses.
Today Angel discussed:
[spreaker type=standard width=100% autoplay=false episode_id=4943002]
Its not just dogs and the unarmed who make officers "fear for their lives," another innocent victim has been shot by police; this time it was a cat.
Footage recently posted to YouTube shows an Oregon man being arrested for filming, or "interfering" with, a militarized police raid across the street from his apartment.
The man has now set up a funding campaign to help pay for his attorney costs. Donate here:
http://gogetfunding.com/project/gresham-police-abuse
Police in Mason City, Iowa recently arrested two children and charged them with felony criminal mischief for stripping bark from a tree in front of their school.  A neighbor with nothing better to do with their time witnessed the children peeling the bark from the tree and felt the need to call the police.
A Bronx man has accused a half-dozen NYPD officers of taking turns beating and kicking him after he asked an officer why he had been searched when she was responding to a noise complaint.
The Angel Clark Show talked with Lyn Ulbricht, mother of the alleged founder of the Silk Road, Ross Ulbricht. Ross is accused of being Dread Pirate Roberts (DPR), and is currently sitting in a cage, awaiting trial. Hear what his mother had to say about the Government's charges here:
[spreaker type=standard width=100% autoplay=false episode_id=4799931]
"This morning at 5:15 am, my boyfriend's son was walking to his job as a baker. Suddenly, three EPD officers came out of nowhere and tackled him to the ground, handcuffing him, mashed up his face, twisted his hand, and injured his foot. He was completely taken off guard."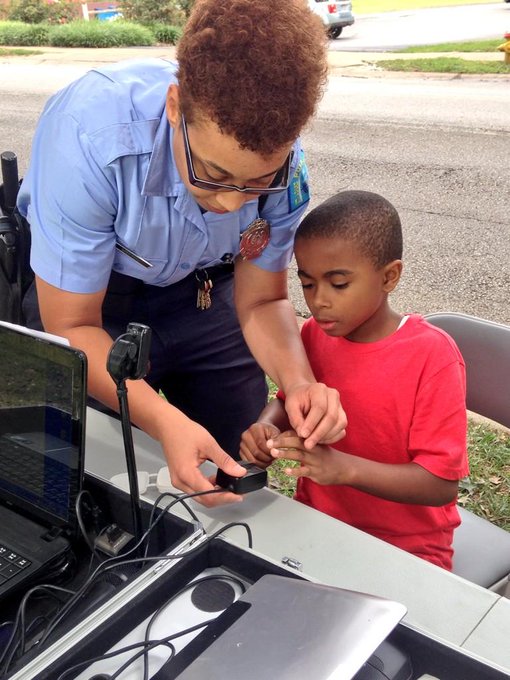 In an effort to improve public relations in Ferguson, the St Louis Police Department set up finger printing stations in the area and offered to fingerprint children. The police announced that they would be doing this as a service to the community, in order to help parents keep better track of their kids.
Two Arkansas police officers have been accused of violating the civil rights of a 107-year-old man shot to death last year during a SWAT standoff.
The major leak of nude celebrity photos last weekend was made possible by software designed to let law enforcement lift data from iPhones with ease. The software is used in tandem with a tool made public recently that can crack Apple iCloud passwords.
Police in New York City arrested a man this week accused of piloting a hobbyist drone in the sky above a US Open tennis match.
Taking advantage of U.S. Defense Department offers of free or low-cost military hardware, Texas school districts have been helping themselves to high-powered weaponry, bullet-proof vests, and armored vehicles to militarize their campus police officers.
The military surveillance aircraft set for release this year over suburban Baltimore will not be equipped with powerful video cameras capable of distinguishing humans or vehicles from over three miles away, the US Army said.
A 31-year-old man in Muhlenberg County, Kentucky was arrested last week after he posted lyrics from the band Exodus on his Facebook wall last week.
A police officer in Baton Rouge resigned Thursday after a local news channel revealed that he sent text messages in which he wished that fellow officers "would pull a Ferguson" on a "bunch of monkeys."
New York City Police Department Commissioner Bill Bratton announced a pilot program on Thursday that will equip 60 police officers with body cameras. In a joint statement Mayor Bill de Blasio and Public Advocate Letitia James issued a statement that said the body camera program would "provide transparency, accountability, and protection for both the police officers and those they serve, while reducing financial losses for the city."
A video recently uploaded to Facebook shows a man demanding a search warrant of police officers at his door who claimed the man could be harboring a criminal. Police in the US are generally required to have a search warrant to enter a home.
A white school guard in Syracuse was suspended this week after parents of an African-American child with Down syndrome accused him of using their son for a racist joke.
A human rights lawyer was arrested outside a Ruby Tuesday's in New York City as she waited for her children, who were inside using the restroom.
The U.S. Justice Department is launching a civil rights probe into the police department in Ferguson, Missouri, several weeks after a white officer shot an unarmed black teenager, sparking racial unrest.
Police in Texas shot and killed a mentally ill man armed with a pellet gun. Officers fired more than 80 shots at 30-year-old Jose Walter Garza during a confrontation early Saturday at a truck stop in Laredo. Surveillance video does not show Garza threatening the officers, but it does show police shoot and then handcuff him.
A Braintree resident found himself facing a court hearing for allegedly "impersonating a police officer" last month after he decorated his Maserati to look like Barricade, a character from the Transformers franchise.
A northeast Indiana police officer admitted to raping a woman he arrested for drunken driving.
Ohio's attorney general is fighting the release of surveillance video recorded during the fatal police shooting of a 21-year-old black man last month at a Walmart store.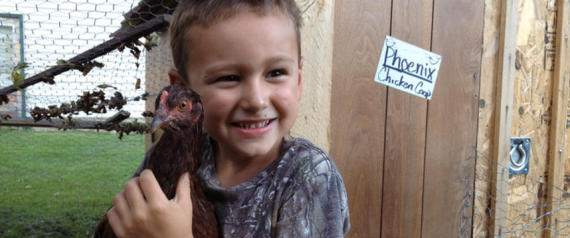 A mother has filed a formal complaint against a Minnesota police department after her 5-year-old son's pet chicken was decapitated by the chief. Though Ashley Turnbull admits she had received warnings at least a week in advance about the ordinance, she said there was no reason to beat her son's chicken to death with a shovel before decapitating it and leaving the head in the yard.
The family of a 31-year-old gay man from Carpentersville, Illinois are frustrated with the complete lack of information they have been able to get about his death after what should have been a routine traffic stop by police.
Yahoo News found that local police departments like Palestine's have been suspended from the Pentagon 1033 program for misplacing at least 14 M16 assault rifles, 11 M14 assault rifles, 21 pistols and 10 shotguns. These figures don't come close to representing the total number of weapons that have been stolen or lost over the life of the program, however — a figure the Defense Department has not released.
Monday on CNN's "The Lead With Jake Tapper," CNN justice correspondent Pamela Brown reported on Philadelphia police and prosecutors seizing the homes of people with no criminal charges. The report highlighted a family who's 22-year-old son was arrested for a $40 drug charge but the parents, who were unaware of their adult sons criminal activity, were never charged with any crime are currently fighting city prosecutors to stay in the family home.
Four officers in the Waldo Police Department revealed to the city council last Tuesday that the department's chief was assigning required quotas for writing tickets. The information was brought forth while discussing other complaints about activities in the department.
A local media outlet in Florida says it caught at least five police cars from three different agencies using their emergency lights to get to a bakery for a breakfast snack.
Parents in Texas are upset after police reportedly "swarmed" a Texas high school because a girl may have had a miscarriage in one of the bathrooms.
The Angel Clark Radio Show Is Produced By Famous Dave In the Studios of Radio freedom.
Who is Angel Clark?
Angel Clark is a talk radio host, a syndicated writer, an activist and lover of Liberty.
With her unique, fast-paced, witty sarcasm Angel Clark brings you the news of the day with a creative individualist twist.
She has appeared on numerous televised news sources. Her writings have been featured in both local and national avenues. She has been interviewed by numerous talk show hosts over the years. She has been a guest speaker at rallies and has interviewed hundreds of guest including presidential candidates.
Angel writes for numerous sites including Examiner.com, noarmycanstopanidea.com and her own personal website SussexCountyAngel.com or on radiofreedom.us
You Can Hear The Angel Clark Show LIVE
Mon. – Fri. 5PM to 7PM EST. on RadioFreedom.us
See you in the chat ROOM!