Brian Sumner Arrested for Filming Cops (Call Flood Request) *Updated*
Update: Charges Dismissed Against Brian Sumner
Brian Sumner has reported via the FaceBook event page that his charges were dropped He also stated:
"Its all thanks to you. I wish everyone of you could have seen the DAs face. My lawyer told me that she wasn't sure if the DA was going to inner (sic) the agreement. I'm going to take that as it was a very successful phone bomb. You all have my heart, and our voices will be heard."
Thanks to everyone that managed to call. Remember, call floods have been very effective at putting pressure on police departments and courts to release people being charged with bogus crimes based on retaliation or intimidation motives. Always call if you can.
---
This is a cross-post from the Nevada Cop Block site.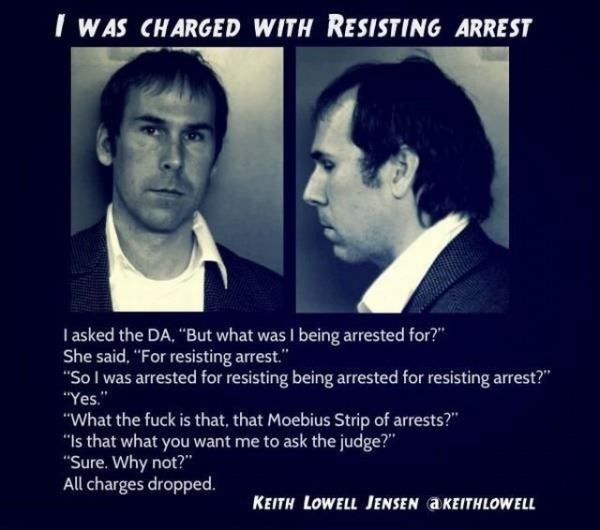 Brian Sumner wrote the article included below regarding how "obstruction" charges are often used to punish and attempt to discourage people involved in Copwatch or Cop Block related activities. This is done much the same way that "resisting arrest" is often used to prosecute people who have been arrested, even when the actual excuse for arresting them is thrown out or dismissed, as a way of intimidating them.
Brian is a local activist and copwatcher from the Fresno area. Within a relatively short time he's made quite a few videos and been involved in several major actions in and around Fresno seeking police accountability as part of the Fresno Liberty Movement. As a result, he has become a target for retaliation by local police and other government employees. In one such instance (not the one in the video included below), he was charged with obstruction simply for filming the arrest of another person from a distance. He will be starting trial for this "crime" today, Sept. 10th 2014, and has asked (via a FaceBook event) that people call the DA to show their support and ask that they drop those bogus charges:
"Brian Sumner was arrested for obstruction of justice while filming a routine traffic stop in Clovis, Ca. Please call the DA's office as many times as humanly possible and ask them to drop the charges. Brian will begin his first day of trial at 1:30 pm 9/10/14. Vanessa Wong is the DA prosecuting the case against Brian. The phone number to her office is (559) 600-3141. Any and all support will be greatly appreciated. #NoVictimNoCrime #PhotographyIsNotACrime #CopBlock #CopWatch #Solidarity"
"Obstructing" is "Resisting" for Cop Watchers
We have all seen a youtube video where a cop demands ID, or for someone to go with them, and when they refuse the cop threatens them with resisting arrest. Even though no crime was committed beforehand… If you have not seen one of these videos click the link below.
---
Threatened with resisting arrest.
---
I FILM COPS!
I have been filming the police for around a year and a half now, and it has slowly just become apart of who I am. I was just out of the military, and dealing with the poor taste it left in my mouth. I had been Listening to the Adam VS the Man podcast, reading The Free Thought Project, and watching everything CopBlock.org was putting out. I had joined the military to serve, and well lets just say my service was more of a disservice.
The visible wars in Iraq, and Afghanistan these "Wars on Terror" were being flaunted along with 9/11 as major reasons to draft such legislation as the Patriot Act, or NDAA (National Defense Authorization Act) to create such organizations as the NSA, and the TSA. While the US military eroded rights, and lowered the living conditions in the middle east, the US government was systematically removing rights, and lowering the standard of freedom in the USA.
I was drawn to activism and civil disobedience because it was an in your face act of rebellion, and when you do something like block a freeway, chalk up a police station, or take over the streets with a group of people, and the authorities just have to let you do it due the critical mass its very liberating to one's soul. You make connections, and form bonds with each other much like in the military.
One thing I have noticed is cops don't take kindly to an unknown person walking up and sticking a camera in their face. Luckily for me, I could care less what a cop wants. Too many times there is no objective record, and cops take advantage of people, or worse hurt them. The supreme court ruled that it is the job of police to enforce the laws, not protect people. With that in mind does it make a little more sense why there are so many victimless crimes?
Police often tell me that my presence is an obstruction of their investigation, they usually try to defend it with "I'm cool with you filming, just from over there, Officer safety, and all" or something along those lines. In reality what the cop is trying to do is place you in a position where you are less likely to capture what he is doing, and/or saying. I have been threatened with arrest for this crime known as "Obstruction of Justice" on many different occasions. I recently made the connection between resisting arrest, and Obstruction of Justice.
If I am not harming anyone, and I am filming from a distance that I deem is reasonable for both mine, and the officers safety, and if I am not engaging the officer in any unwanted dialogue how can I be obstructing justice, or interfering with his investigation? Is he claiming that my presence with a camera is somehow hindering him from doing his job? Or is he afraid of what the camera will see? Regardless the situation remains where unquestioned obedience to an authority figure, possibly a complete stranger, can and will land you in cage, even worse you can end up with a criminal record.
The same can be said with resisting arrest. As we saw in the video link above the man was eating a meal at a fast food restaurant. When the man did not want to leave his meal, and go with the officer he was threatened with arrest for resisting arrest. How can your only crime be not wanting to have an interaction with a complete stranger? Does it make sense that you can literally be arrested for refusing to go somewhere with someone who claims authority over you?
Police now can detain and arrest you for not wanting to talk to them. At the same time police can detain and arrest the people who would film these arrest's in order create an objective record, if they do not follow the orders of a the police officer. I will now share a personal experience from 2 nights ago with the Clovis, Ca police department.
---
Clovis police officer, and local hero Jesus Santillon, threatened me with arrest for filming him while he detained, and later arrested a homeless man with a bicycle.
---
This video also may serve as an objective comparison of the behavior of cops while in certain uniforms. The officer with the tactical vest, and the military haircut was the one to make contact with me, and cry about "officer safety" in an attempt to get me to alter my position. While the police officer in his regular uniform was very patient, and kept to the matters at hand.
Notice also that even the nice cop was telling me what to do. Officer Santillan was telling me to move, the other person involved Officer Shermanti was telling me that no one threatened me, and the supervisor was telling me to keep my opinions to myself, and to do whatever complete strangers with guns tell me to. In retrospect thats actually not that bad of advice… If a complete stranger came up to me with a gun and told me what to do. I would probably do it. Unless it was a cop. Then I would probably film it.
I hope you also noticed that none of the cops really listened to me, they all just made excuses for each other, and talked at me in a manner that made me feel more like a subject to them. In other news, Officer Jesus Santillan was awarded a hero medal for 80 DUI arrests, and singlehandedly making up 21% of the DUI arrest for Clovis PD.
"A Clovis police officer was given a California Hero Award on Saturday at the 16th annual Statewide Law Enforcement and Community Recognition Event in Sacramento, said Janet Stoll-Lee, spokeswoman for the Clovis Police Department.

Stoll-Lee said Officer Jesus Santillan arrested 80 drunken drivers during the graveyard shift in 2013, which accounted for 21% of the department's total DUI arrests. Santillan worked on DUI checkpoints, AVOID task forces and saturation patrols in Clovis.

The event, which is sponsored by Mothers Against Drunk Driving, recognizes law enforcement officers and community leaders throughout California for their efforts to stop drunken driving."