Sheriff Arpaio to confront "Chalk the Police" Protestor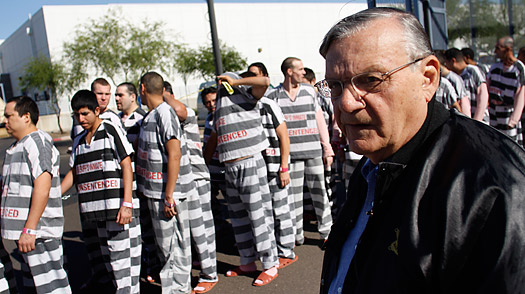 Freedom's Phoenix has confirmed reports that Joe Arpaio, sheriff of Maricopa County, AZ, will be on scene for the "Chalk the Police" event taking place at the jail tomorrow. His department issues this news brief yesterday:
Joe Arpaio, Sheriff
News Brief

September 29th, 2011

Sheriff Arpaio to confront "Chalking the Police" Protestors

(Maricopa County) Sheriff's intelligence indicates a planned protest in front of the
Fourth Avenue Jail on Saturday October 1st at 10:00am. Protestors will be
performing a "Chalk the Police" protest where they plan to write messages
regarding police abuse on the sidewalk.

Sheriff Arpaio will personally be on scene at Fourth Avenue Jail to confront the
activists and says, "Anyone breaking the law will be arrested and booked into jail".

Sheriff Arpaio will also have his chain gang on site to clean up any damage caused
by the protestors.
I think Joe is hilarious. He credit his "intelligence" for finding a public Facebook event and press releases, then brags about how his chain gang will clean it up. The chain gang is not his personal army, to do as he says. That's cruel and unusual punishment. It also goes to show Joe's mindset, instead of asking those who chalk to clean it up, he forces other in a chain gang to do it. WOW.
Please call Joe, 602.876.1801, and tell him chalking is not a crime, I'm sure he has more important things to do (like harassing brown people).
Best of luck to our Phoenix friends. We look forward to the video and will be watching.